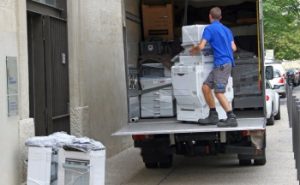 Moving Masters is a full-service Moving Company providing professional moving services to residential and commercial customers in Long Island.  We specialize in flat rate long distance moving, house moving, and office moving.  In addition to Long Island, we also serve customers in Queens and Brooklyn and can move your belongings from the Tri-State area to any interstate destination.  We are a family owned moving company employing professional movers who take extreme care in every step.
Commercial Movers & Office Relocation – Long Island, NY
Are you getting ready to relocate your business or office?  Our Long Island Commercial Movers can help save you the head aches and ensure that your move is a quick and efficient one.  When it comes to commercial moving, it takes a team of skilled professionals to get the job done done right.  Don't rely on any old moving company that's looking to fill their jobs in between their house moving gigs – hire a team that actually has experience with office relocation and commercial moving.  It might seem like a daunting task to relocate your business, but with Moving Masters on the job, you can relax and focus on the important things during this transition – like your business operations.


Best Long Island Movers
Looking for the best Long Island movers? Look no further!  Here at Moving Masters of New York, we employ only the best!  Our team is honest, reliable and efficient.  As a family owned and operated business local to the NY area, you can rely on us and trust that we will take special care of your belongings.  Our New York Movers treat your items as if they were their own.  We take meticulous care in transporting your personal goods from one place to another.  Whether you're looking for help with a local move to or from Long Island, or in search of a long distance mover, we can help!  Give us a call today at (855) 668-4839 to plan your next move!