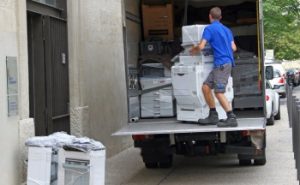 We are a Moving Company in New York offering professional moving services to residential and commercial customers throughout the Tri-State area.  Moving Masters specializes in flat rate long distance moving for houses, apartments, offices and commercial businesses.  We service customers from Brooklyn to Long Island to Queens and can move your belongings from the Tri-State area to any interstate destination.  We employ a team of professional movers in New York with years of experience that work to exceed your expectations.
Commercial Moving Company & Office Moving Company – New York
Are you in the preparation phase of relocating your NY business or office?  Our New York Commercial Moving Company can make this transition easy and efficient so that you don't have to worry and deal with the complexities that come along with the job.  When it comes to commercial moving, it takes a team of skilled professionals in order to get the job done done right.  Don't settle for any NY Moving Company on the street – hire a team that actually has experience with office relocation and commercial moving.  Relocating your business might appear like an impossible task, but with Moving Masters on the job, you'll be able to take out the stress and can relax while we do all of the heavy lifting.


Best New York Moving Companies
Are you in search of the Best New York Moving Company? Well, you are in luck!  Moving Masters of New York employs the best moving team to get the job done right, on time and at an affordable rate!  Our team is honest, reliable and efficient.  As a family owned and operated business local to New York, you can rely on us and trust that we will take special care of your belongings.  Our Professional New York Movers will handle your items as if they were their own.  We take extreme care in handling all of your belongings.  We can pack your items as well as transport them to your final destination.  Whether you're looking for help with a local move to or from NYC, or in search of a long distance mover, we can help!  Give us a call today at (855) 668-4839 to plan your next move!
Long Distance Moving Company in New York
Yes, we do that as well!  And when it comes to moving across that states, you'll want to hire a long distance moving company in New York with the proper experience, licensing and team that gets the job done right.  Joe Schmo might be able to help you move a couch from point A to point B, but if you are moving from New York to Florida, don't settle for a cheap mover with minimal experience.